Please note that these pages are changing everyday, so always use your "Refresh" button (F5) when revisiting.

Swag- n. (swag) Promotional items especially given for free.
To help promote our fun MonsterFence™ eyes and KOMF!™ logo, we're giving some cool free swag! No purchase necessary; all we request is that you fill out our confidential form and hopefully remember us if and when you need a superior foundational fence. We assure that your info will remain confidential with our firm and that we will never provide it to any other company.
1. Magnetic Bumper Sticker 10" x 3" - Fun for any car that drives!

2. Magnetic Hard back sign 4" x 7" - Suggested for any entrance, doorway, or gate. Can also be screwed to any surface especially for outdoors.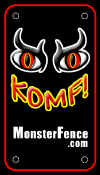 3. Awesome Baseball Cap - These are going to cost me nearly $15 each and I'm not too sure about making them free... lol! Standby for more info...

If you want to request something now before the form is ready, please email your info and desired items we'll send it out asap!
Stand by for more...
MonsterFence™