Please note that these pages are changing everyday, so always use your "Refresh" button (F5) when revisiting.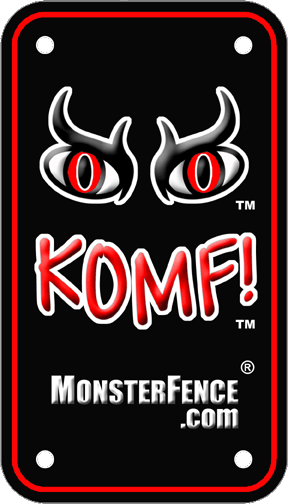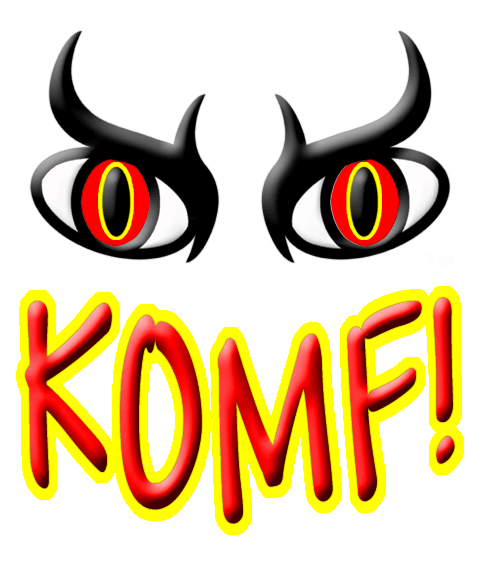 This embossed plate with our new trademark 'KOMF™' might be fun to locate onto every gate from MonsterFence™ . Initially, we wanted to warn trespassers w/ standard wording such as 'Keep Out' or 'No Trespassing'. After consideration we decided that 'KOMF™' generally means 'Keep Off My Fence!' or 'Keep Out... Monster Fence!'.
We believe that whoever sees this sign will reconsider what might be on the other side of those monster eyes! The 'KOMF™' acronym also facilitates a few other fun phrases:
For the rebel... 'Keep Out Mo-Fo!'
For the tailgater... 'Keep Off My Fender!'
For the cutie-pie... 'Keep Off My Fanny!'
For the driver... 'Keep On Motoring Fast!'
For the optimist... 'Keep On Moving Forward!'
For the socialite... 'Keep On Making Friends!'
For the diplomat... 'Keep Objective My Friend!'
For the kiddos... 'Keep Objective Mother & Father!'
If you have any other fun phrases, please email. Standby as we're working on a free magnetic bumper sticker and other fun marketing apparel including a cool baseball cap.

MonsterFence™